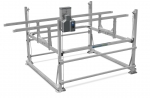 Hi-Lift Vertical Lift
Straight up, straight down – A lift for deep water or changing levels
The Hewitt Hi-Lift is an economical, direct vertical rise lift that is ideally suited for deeper water applications or sites where water levels may fluctuate. These lifts are based on simple, proven technology but are distinguished by Hewitt's rock-solid construction and unique frame design. Hewitt Hi-Lifts incorporate side bars that provide greater stability than "V"-style side designs. Side bars are also set lower for easier boat access. Some competitors' side bars are adjustable, but the design limits maximum lift height. Ten models provide lifting capacities ranging from 1100 lbs. to 10000 lbs.
Features
-Corrosion-resistant structural aluminum frame with pre-strung stainless steel cables.
-Corrosion-resistant full-width acetal delrin plastic pulleys with hardened cast bronze bushings.
-End-mounted pulleys – no pulleys or exposed cables midway to interfere with access.
-Four 30" leveling legs with quick pins for easy adjustment on 1100 lb–6600 lb series. Longer legs available.
-Four 48" leveling legs with quick pins for easy adjustment on 8000 lb–10000 lb series. Longer legs available.
-Four non-scratch cradles and two keel protectors on 1600 lb series.
-Full-length bunks and two keel protectors, 2600 lb-10000 lb.
-Extra long cable adjustment bolts.
-Model HL1100 equipped with Dutton Lainson winch, 4:1 ratio. Model HL1600, 6:1 ratio.
-Models HL2600 to HL5600 equipped with Hewitt high efficiency winches – 15:1 and 20:1 ratios.
-40" aluminum winch wheel with spinner knob.
-Model HL6600 equipped with heavy-duty electric winch.
-Optional 25:1 ratio winch with wheel also available.
-Model HL8000 and HL1000 equipped with electric winch.