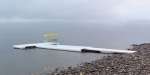 Floating Truss Dock
The dock system that works where others can't — deep water and frequently changing water levels
Hewitt Floating Docks feature the same advantages found in all Hewitt dock systems – easy assembly, low maintenance and expandability. Whether you choose aluminum for low-weight or galvanized steel for maximum strength, Hewitt Floating Docks are engineered and constructed to provide unexcelled performance and durability.
2', 4', 6' and 8' Wide Docks Configured for
Residential or Commercial Applications
Hewitt Floating Docks are ideally suited for complex layouts and commercial as well as residential use on deep-bottom lakes, reservoirs and rivers. Floats automatically adjust to high and low water conditions – you'll never be left high and dry or find your dock submerged. 6' and 8' foot wide models provide extra space for equipment and allow people to pass easily in heavy use areas.
The Sky's the Limit
As the photographs in the gallery illustrate, Hewitt Floating Docks can take on almost any size or shape and be expanded vertically to include upper decks, hip roofs and gable roofs.
Superior Quality Flotation Tanks
Hewitt Floating Docks are supported by float tanks so reliable they meet U.S.
Military specifications. The tanks are comprised of EPS foam encased in a seamless heavy-duty polyethylene shell. Tanks are resistant to cracking and corrosion and are suitable for year-round use. They can even be left out during the winter. Float tanks are available in a wide range of sizes with different load carrying capacities.
Float tanks have molded-in mounting flanges for easy attachment to the bottom of the
dock frame. Floats may also be installed within the frame for a lower profile on the water.

Bridged Framework
The Floating Dock incorporates engineering principles proven in bridge and crane construction. The open framework design provides maximum strength with minimum weight and creates less wave resistance for superior stability. Heavy-duty structural support tubes are used at both the top and bottom of the side frames. The entire frame is reinforced with structural channel bracing and extra strong angle crossbars. Corners are strengthened with extra large gussets.

Floating Dock Hinges
Specially designed full-width hinges are recommended for connecting sections. Hinge connections prevent undue stress on the structure by allowing the dock to flex in rough water conditions or in locations where water levels change rapidly.
(left: Heavy-duty Piano Hinge)
(right: Heavy-Duty Hinge)

Corner Support Hinge
Decking Options
Cedar Skidguard* Aluminum ThruFlow
* Available on 2', 4' and 8' wide docks only.